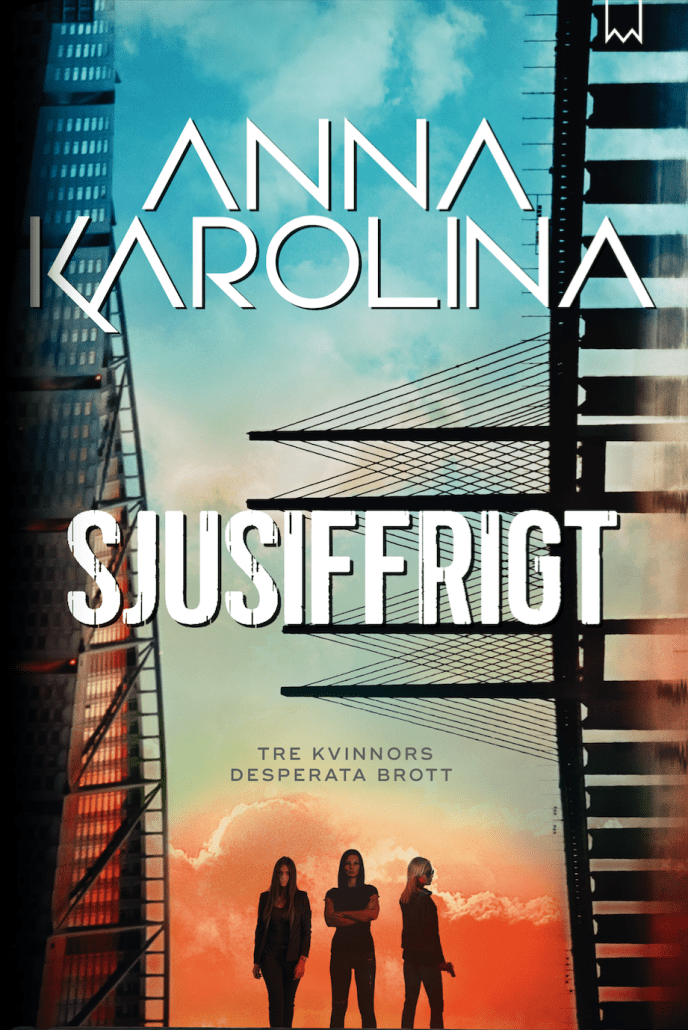 SJUSIFFRIGT – SEVEN FIGURES
By Anna Karolina
In this new suspense novel from critically acclaimed crime author Anna Karolina, we are introduced to three women; Julia, Carla and Nikolina. Friends since childhood, they lead normal lives in Malmö. Julia is a doctor, Carla is a tattoo artist and Nikolina works as a sky-diving instructor. However, they also share a secret life together – the women like to carry out crime in their spare time, from early teenage ATM-robberies to more intricate thefts.
Now, they are planning the heist of the decade: to kidnap the son of a clothing company mogul and exchange him for a record breaking ransom – and then live happily ever after. It has to be perfect. With everything at stake and for a number of personal reasons, nothing can go wrong.
After a successful kidnapping, the mogul refuses to pay the ransom, and everything goes downhill from there. The three women are forced back to their real lives, desperately trying to keep up appearances, knowing very well that it's a race against time. The victim ends up in Julia's hospital where she's forced to take care of him.
Meanwhile, the police officer in charge of the kidnapping case, Carsten, is slowly piecing the clues together. All of them had their individual reasons for carrying out the kidnapping, but they must tie up all loose ends before time runs out and it's all too late.
ABOUT THE BOOK
First published by Bookmark, Sweden 2017.
RIGHTS SOLD TO
Czech Republic, Dobrovsky and Omega
Sweden, Bookmark
REVIEWS
Nail-biting suspense from the first to the last page! Following the three women's pursuit of money, love and reconciliation, this moving and action-packed thriller is completely unputdownable. A groundbreaking new take on the classic kidnapping drama, with nerve tingling twist throughout the storyline. In addition, I love to read about women who take what they want – and do so in such a skillful manner.
Anna Cecilia Weschke, Editor, Bookmark, Sweden
Anna Karolina very finely portrays the inner lives of these women; the strong loyalty, the loss of a child and the feelings of guilt for unspoken sins. The author has also dared to chose an unconventional ending with a lot of drama and high pulse.
BTJ
Anna Karolina is a skilled narrator, and she gives the story a great flow […] It's also fun with some new types of women in the suspense novel genre […]
Crimegarden
"Seven Figures" feels fresh, with a new and different type of plot – a mix between chic lit and a hard-boiled police thriller. As always I like Anna Karolina's prose, the rawness and that you're thrown directly into the story without a warning. I'm captivated by the characters, the details and the living environment. Simply put, a modern story suitable for our time. Read and enjoy!
@oliviasdeckarhylla (instagram)
I absolutely recommend this book to all of you who like Swedish suspense novels that are thrilling and easy to read.
Bims Blogg
Okay, so here's one of the most exciting authors of suspense novels right now. Anna Karolina, an extremely skilled writer that also has a background in the police force. This is her fourth book, and it's so dense and intense and real damn good.
Bookbeat
"Seven Figures" is a thriller with a great go! […] Anna Karolina writes in an uncomplicated and initiated way […] and there's really no dead moments in the story! It's entertaining non-stop and cinematically told. […] I think that readers of both Jens Lapidus and Sofie Sarenbrant can find a new favorite in Anna Karolina.
Killberg's Books
A thrilling and unpredictable story […] I had great expectations on "Seven Figures" by Anna Karolina and wasn't disappointed. I read the book in a stretch and liked the characters, the friendships, the jargon and the cocky girl power. A nice mix of police thriller, action and relationship drama. Highly recommended!
Agneta's ABC
Thrilling, strong and skilfully written!
Jennie's Booklist
A Swedish suspense novel that's easy to read, with great pace and a thrilling story.
Lotten's Book Blog