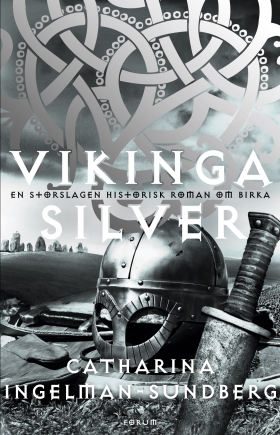 VIKINGASILVER – VIKING SILVER
By Catharina Ingelman-Sundberg
Before Birka was torn between pagan and Christian beliefs, women were free and men were Vikings.
Birka is a Viking town in full bloom. Businessmen from all over the world buy and sell goods there. Silver, plaids and slaves change owners at the market. Spices and shimmering glass from Miklagård are sold at high prices in the sheds in the harbor. At the same time, the threat of an attack looms from the ocean.
The long business journeys of the men leave the women with freedom and responsibility. It is the wife who is in charge the keys and makes sure the farm is taken care of. But Birka is entering a new age. Suddenly the sacrifice to the Aesir Gods is no longer something taken for granted, the independence of women is questioned and Bishop Gautbert preaches about God's punishment and hell.
Viking Silver portrays two dramatic life destinies in Birka. The novel describes how strong and independent the position of female Vikings had been, about the men's adventures as Vikings and about the major events during one of our history's most fascinating periods of time.
ABOUT THE BOOK
Published by Forum, Sweden, 2015.
375 pages.
RIGHTS SOLD
Denmark, Egmont Wangels
Germany, Blanvalet
Norway, Fredhoi
Rumania, Scandic
Russia, Olma Media