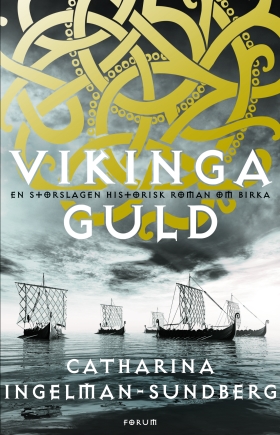 VIKINGAGULD – VIKING GOLD
By Catharina Ingelman-Sundberg
Estrid
After great indecision, Estrid follows the man she loves, Orfrim, eastward. She is finally off on an adventure and she looks forward to seeing new, exotic places.
But while still on the journey to Gårdarike, Orfrim changes and upon arriving at Aldeigjuborg, Estrid receives a shock. Standing there waiting are his wife and children.
Estrid had no idea that the man she fell in love with was already married and she doesn't understand why he requires her total submission. In his religion, the woman must obey, something that the free Viking woman Estrid cannot accept. The fights become more frequent and Orfrim's jealousy and demand for total power become insufferable. Estrid can't stand it anymore and wants to return to Birka. Then the slave traders come to town.
Erik
Erik is suffering back home in Birka. He knows that he had to let Estrid go, otherwise he would risk losing her forever. He still harbors the hope of her returning; in the meantime he takes care of the inn and of his son, Rurik.
Hostile winds are blowing at Adelsö and Birka. The noblemen are dissatisfied with King Björn, and a huge enemy fleet is draws closer to Birka. Erik suspects that a battle is close at hand and endeavors to get the King and his followers to make preparations. Despite his promise to Estrid to wait for her, Erik is attracted to the slave Ysja. She reminds him of his first love. But Erik doesn't know that the King had big plans for his slave.
ABOUT THE BOOK
Published by Forum, Sweden, 2015.
344 pages.
RIGHTS SOLD
Denmark, Egmont Wangels
Germany, Blanvalet
Norway, Fredhoi
Rumania, Scandic
Russia, Olma Media
REVIEWS
Think how easy history is to understand and how much knowledge you can pick up at the same time when historical romance novels are about people, not just action.
Sköna dagar
Provides a fascinating picture of a world that most of us have no clear understanding of.
Aftonbladet
…a very rich Viking tale. …Exciting, sad and fun!
Mersmak
…excitement and humor.
Bibliotekstjänst
..shows proof of good storytelling talent. The book is well written and exciting and presents a good picture of the world of the Vikings.
Huvudstadsbladet
…A portrait of Birka with love, adventure and lust.
Upsala Nya Tidning