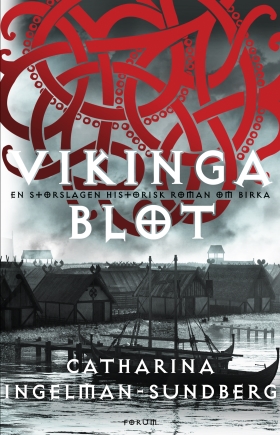 VIKINGABLOT – VIKING SACRIFICE
By Catharina Ingelman-Sundberg
This is the first book in Catharina Ingelman-Sundberg's epic Viking Saga.
Erik Bärnstenshandlare is on his way home to Birka after a journey. He had promised his woman, Jorunn, he would return in one year; three years have now passed. A passenger on Erik's ship is Ansgar, the monk from Corbie sent to covert the Swedes to Christianity.
After a dramatic journey, during which the ship is attacked by pirates, they finally arrive in Birka, exhausted. They are met by music: Erik arrives at his hometown on the same day Jorunn is to marry his brother. Heartbroken, he tries to create a life together with the dispossessed woman, Estrid.
Ansgar sacrifices everything to teach Birka about Christianity, but King Björn and his people don't like the new science and try to obstruct Ansgar's mission. In addition, the monk is hiding a deep secret. A secret that has something to do with Estrid…
Viking Sacrifice describes how strong and independent the position of female Vikings had been, about the men's adventures as Vikings and about the major events during one of our history's most fascinating periods of time.
ABOUT THE BOOK
Published by Forum, Sweden, 2015
311 pages.
RIGHTS SOLD
Denmark, Egmont Wangels
Germany, Blanvalet
Norway, Egmont Fredhoi
Rumania, Scandic
Russia, Olma Media