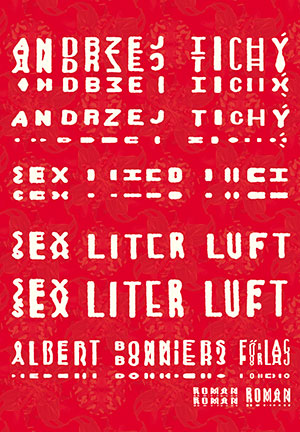 SEX LITER LUFT – SIX LITRES OF AIR
BY TICHÝ, ANDRZEJ
The teenager Ivan wakes up in his mother's apartment in a poor suburban area. We follow him the first day, the second day, the third day… Ivan drinks water, Ivan walks around. Eventually he realises that all humans have disappeared.
The first part of the novel describes Ivan's first week of loneliness, day by day. That is followed by a passage called "contra point" where the missing people make more or less cryptic comments, as if they spoke from another dimension. And finally there is a part called "Anamnes" where we follow the happenings of Ivan the week before the scary wake-up. This structure is repeated twice which means that novel encompasses six weeks in total.
The milieus are depressing and realistic, and the violence is nearby. It is a description of the living terms for the lower class and also a description of Ivan's world as a whole. The story suggests that the secret wish of the society has become true: That the odd, the maladjusted and personae non gratae have vanished – and with them all the problems.
ABOUT THE BOOK
First published by Albert Bonniers Förlag, Sweden, 2005.
186 pages.
AWARDS
Borås Tidnings Debutant Prize 2006
REVIEWS
A little bit like Christopher Nolan's celebrated film Memento, but better.
Svenska Dagbladet