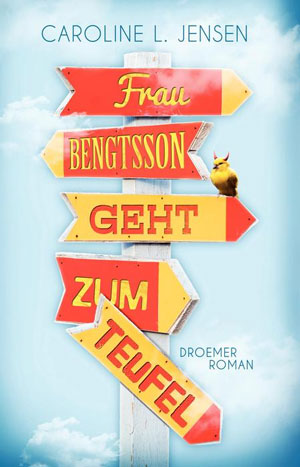 FRU BENGTSSONS ANDLIGA UPPVAKNANDE – MRS BENGTSSON'S SPIRITUAL AWAKENING
By Caroline L Jensen
Fru Bengtssons andliga uppvaknande (Mrs Bengtsson's Spiritual Awakening) is a humorous novel about the Old Testament, the Ten Commandments and the chaos that ensues when an ordinary housewife encounters God in her bathtub and Satan on the other side of her suburban street.
This is a hugely funny book, but complex questions and arguments hide underneath the light-hearted veneer.
A modern take on Bulgakov's The Master and Margarita, with a desperate housewife's view on God and his nature.
ABOUT THE BOOK
First published by Ord Text Mening, Sweden, 2010
222 pages
RIGHTS SOLD TO
Denmark, Forlaget Alfa
Germany, Droemer Knaur
Spain, Planeta
REVIEWS
'Fru Bengtssons andliga uppvaknande' is a humorous discussion about God's message of love versus the Old Testament. It's wildly funny and charming and never loses its pace.
Bibliotekstjänst
Caroline Jensen's idea is terrific, really funny and refreshing. Her style is fast-paced and humorous.
Sophie Lossing, Skånska Dagbladet
It's giggly, funny…bright, clever…just witty in a way that is a little unusual in Sweden. More British perhaps? … The last time I giggled like this was when I read Jasper Fforde … She has humour, that Jensen.
Annika Koldenius, bokcirklar.se
It's a pleasant and lighthearted book with a fair amount of humour where the author pokes fun at both religion and those who practice it.
skrivsidan.com
…the point with this book is that it's illogical and there it is reminiscent of Jostein Gaarder's philosophical book "Sophie's World".
Gotlands Tidningar
As an author I believe Caroline is here to stay.
Emma Lind, Vänersborgaren